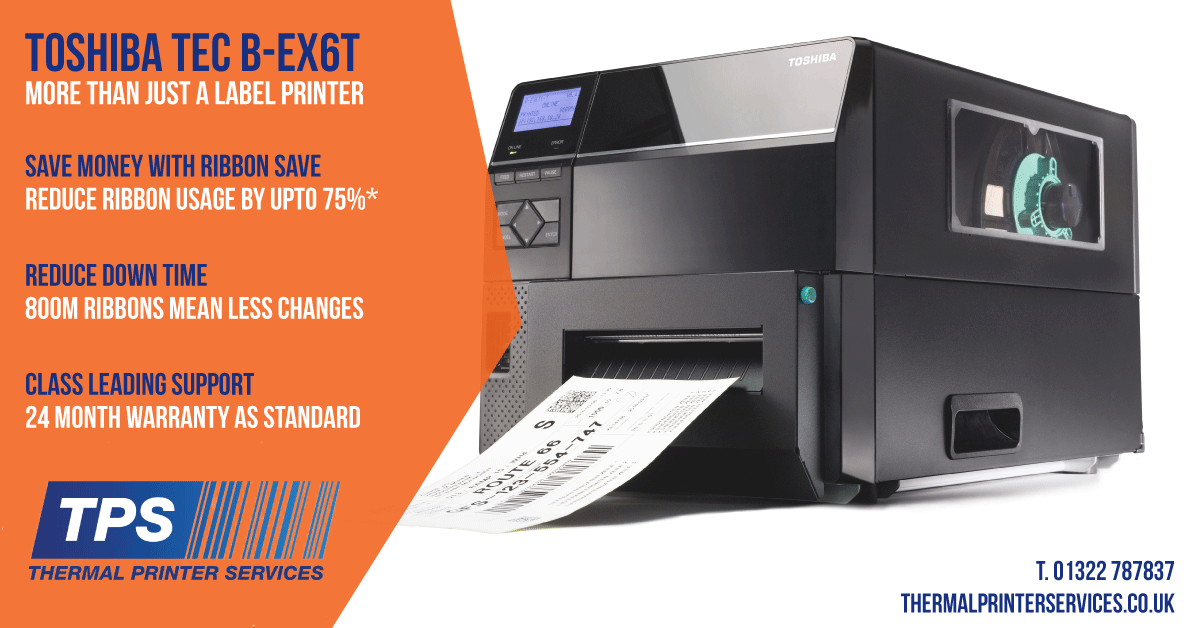 Looking To Save Money On Your Label Printing Consumables?
Maybe it's time to consider the Toshiba TEC B-EX6 Industrial Label Printer.
The all new 6" wide industrial label printer from Toshiba is a replacement for the extremely succesful B-SX5 & B-SX6 models, keeping all of the things that worked from the earlier models but with a few enhancements as well. 
Edge head technology means the B-EX6 is compatible with your existing media supplies of labels and thermal transfer ribbons.
The new model has reduced power usage by 40% further building on Toshiba's green credentials.
Other money saving features are Toshiba TEC's unique Ribbon Save technology this isn't available from any other manufacturer as it relies upon the edge head printhead technology that is unique to TEC. Ribbon Save works by lifting the printhead and pausing the ribbon on areas of label with no print, depending on label size and artwork design this can make massive savings for users, both in cost and reduced disposal of unnecessary waste ribbon. Take a look at this video demonstrating the full power of Ribbon Save here.
The new B-EX6 also takes ribbons up to 800m long meaning less ribbon changes, so less down time in your production line.
And if all of that wasn't enough you also get 24 months warranty as standard!
Connectivity options are covered with USB & Ethernet as standard and Serial, Parallel and WiFi available as options.
To discuss upgrading to a new B-EX6 label printer give our team a call on 01322 787837.