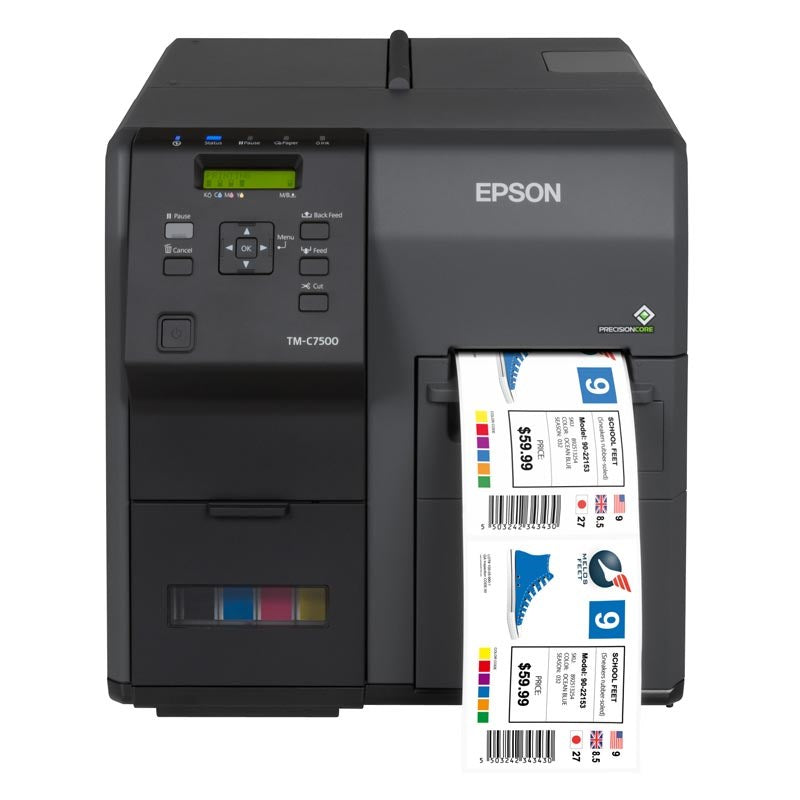 TM-C7500 Colour Label Printers
The ColorWorks C7500 system is designed to efficiently and cost-effectively meet the needs of industrial manufacturers fulfilling high mix label requirements and variable printing demands. Epsons patented PrecisionCore technology is a critical feature that enables the new printer to deliver speed, economy and print quality to manufacturers.

The modular print chip merges enhanced print speed, image quality, ink durability and color resolution with the flexibility to cost-effectively scale up production as needed. The C7500 is Epsons first ColorWorks industrial printer with a print head configured in a linehead configuration. This new linehead technology delivers a higher image resolution of 600 x 1200 DPI at faster speeds with very precise dot placement and high-speed media handling.

The 4-color printer delivers the same low cost per label and high image durability of previous ColorWorks labeling solutions while increasing print speed by as much as 430% and ink capacity tenfold. The printer is constructed with an industrial grade metal casing for added durability in demanding manufacturing environments. Enhanced operating features on the new system enable fast, easy transition from inefficient, legacy printers and existing pre-printed label stock.

The ColorWorks C7500 comes equipped with ZPL II programming compatibility to allow direct plug-in replacement for manufacturers operating two-step printing with traditional thermal transfer printers. In this application, the printer can produce full color labels from blank stock by automatically merging color pre-print images in memory with existing monochrome data streams.